Hello Viewers,
I have been reseaching info about our planet 'Earth', below are the facts like telling you the age, size and etc:
Age: 4.6 billion years old.
Location: 3rd planet from the sun.
Size: 5th largest planet in our solar system.
Surface Area: 197 million square miles, about 70 percent of the Earth's surface is covered with water..
Diameter: The Earth has an average diameter of 12,742 kilometers. (7,926 miles)
Average Temperature: The temperature at the Earth's core is estimated to be between 5000 and 7000 degrees Celsius.
Length of Year: 365.25 days
Inclination of Axis: The Earth's axis has a tilt of about 23 ½ degrees. It is this tilt which causes the seasons.
Chemical Composition: The Earth is made mostly of iron, oxygen, silicon, magnesium, nickel and sulfur. Iron, 29.5% Oxygen, 15.2% Silicon, 12.7% Magnesium, 2.4% Nickel, 1.9% Sulfur, 0.05% Titanium
Below Is A Picture Of Earth From Space: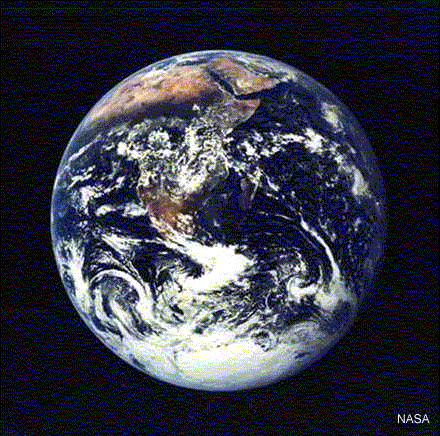 ~Jedilachlan